Band Selective Repeater Malaysia
Most of the MyMB mobile signal repeater products are wide band product that support all telco, i.e. Maxis, Digi, Celcom, U Mobile etc. In some cases, users prefer to boost only one telco signal in their premises, and it need a special repeater: "Band Selective Repeater" that selectively boost the specific telco signal band.
With our growing technical experience and advance fabrication technology, MyMB is able to produce single band and dual band band selective repeater, please refer to the step as shown below: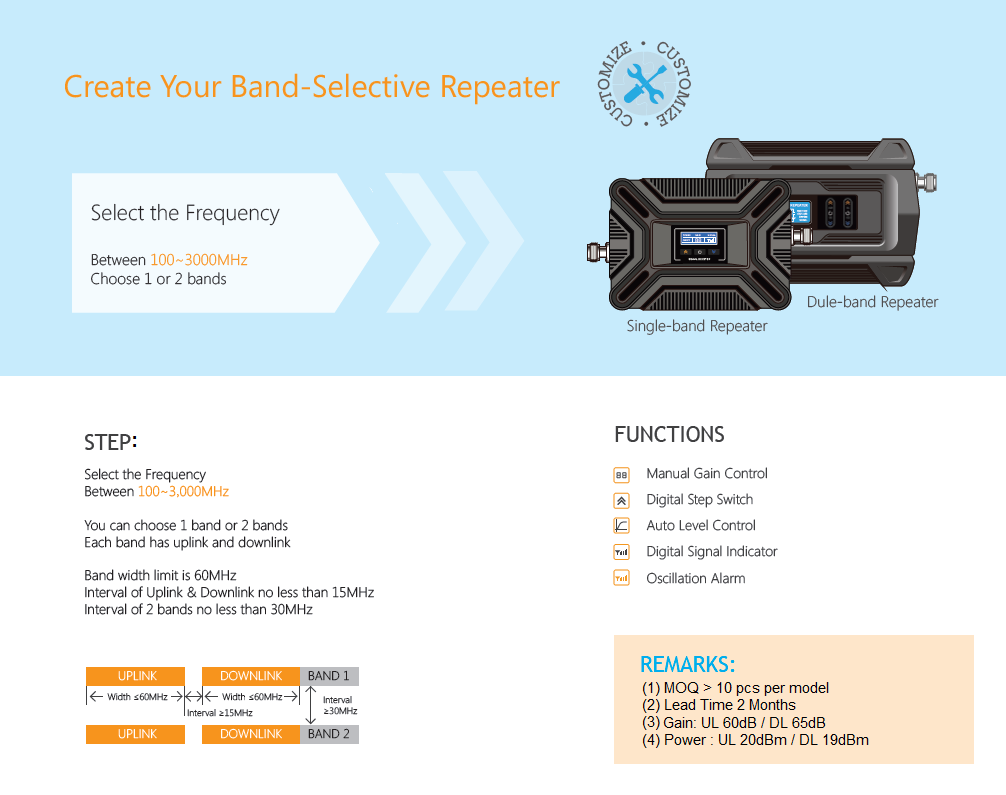 The Band Selective Repeater comes with Digital Manual Gain Control (MGC) function,  you could control the gain using digital step switch at a step of 1 dB, this function is to prevent loop oscillation due to bad isolation caused by installation or building material. This band selective repeater comes with Auto Level Control (ALC) function as well to automatically adjust the gain level when the input signal is too big , this function is to suppress the sideband noise that may cause interference to other telco signal. Other than that, there is an Oscillation Alarm to indicate loop oscillation so that users could adjust the antenna or gain to prevent loop oscillation.
Other important function is the Digital Signal Indicator that indicate the signal strength, it is extremely useful for band selective repeater, as it help installer to adjust the outdoor antenna direction in order to get the best input and output signal that they want.
Product Specification:
Gain: UL 60dB / DL 65dB
Power: UL 20dBm / DL 19dBm
Frequency: User Select
Manual Gain Control
Digital Step Switch
Auto Level Control
Digital Signal Indicator
Oscillation Alarm
Due to the re-designing, re-fabrication process of PCB involve, the MOQ for Band Selective Repeater is 10 and lead time is 2~3 months. MyMB band selective repeater not only let you to choose one telco signal band, you could choose 2 or 3 telco signal band and get rid of the rest if those selected telco signal band are next to each other. For example, you could select Celcom and Digi 3G band and get rid of Maxis and U Mobile as Celcom and Digi 3G band are next to each other, you could not select Digi and Maxis 3G band because they are separated by Digi 3G band. If you are not sure about the frequency band, just let us know what telco signal (2G, 3G or 4G ) you need,  then we could advise you whether it is possible to make it.