IP Walkie Talkie Malaysia
We supply IP Walkie Talkie Malaysia that let the communication group stay connected under Wifi and/or GSM / 3G / 4G network, you do not need to bear with bad connectivity, cross inteference noise due to limited bandwidth for traditional type of walkie talkie anymore !
IP walkie talkie comes with lots more of functions compare to traditional walkie talkie, and the device is now free with 2 year contract ! 
Monthly Fees: RM 60 (Including Telco Subscription, unlimited talk time  ! )
First Time Fees: 3 Month deposit (RM 180) + Refundable Deposit (RM 300) + One Time Registration Fees (RM 50) 
After two year, the device belong to you.
Warranty: 1 Year
Applications:
IP Walkie Talkie is ideal for application such as Security, Construction, Entertainment, Education, Hospitality, Transportation and etc.
No GSM/ 3G / 4G signal inside building, how ?
If mobile signal coverage is a problem inside building, MyMB mobile signal booster product could solve your problem, by approaching us, you can rest assure that both your mobile signal coverage and walkie talkie communication issues be solved at the same time.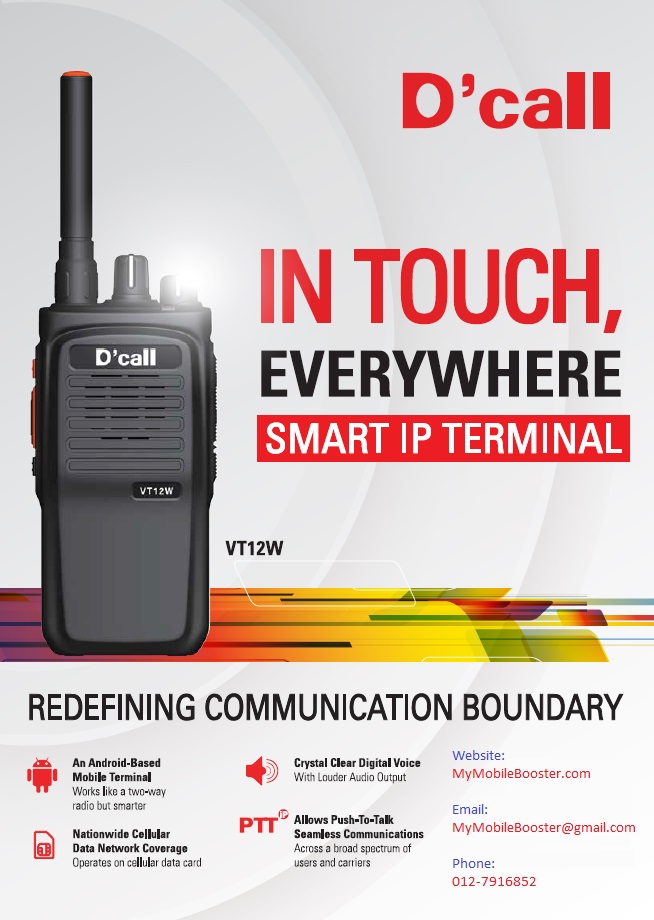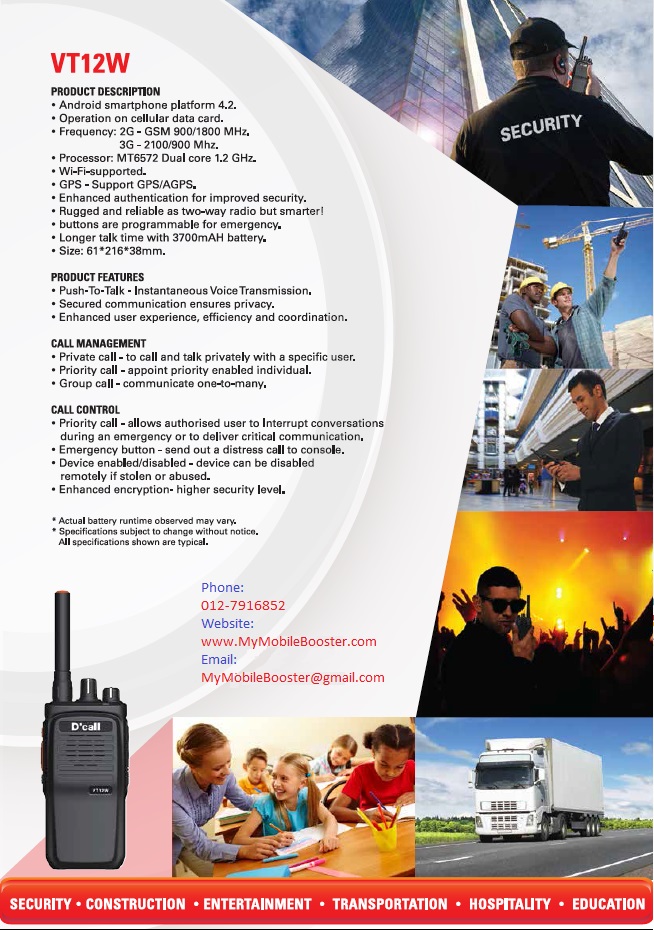 VT12W Introduction:
An Android based IP Smart Terminal, VT12W is powered by Radio over IP Technology and operate on a nationwide cellular data network coverage. It allows PTT real-time seamless communications across a broad spectrum of users and carriers without any boundary restriction.
Product Description
Android Smartphone platform
Operates on cellular data card
Frequency: 2G 900/1800 MHz, 3G – 2100 MHz
Enhanced speaker to enable loud audio output
Voice command calling
Longer talk time with 4400mAH battery
Up to 120 hours of standby time
Crystal clear digital sound
Hands-free operation
USB and desktop charging
Built-in GPS
Enhanced authentication for improved security
Long antenna for receiving and transmitting proficiency
Rugged and reliable as a two-way walkie talkie but smarter!
Buttons are programmable for emergency
Product Features
Push-To-Talk Instantaneous Voice Transmission
Secured communication ensures privacy
Enhanced user experience, efficiency and coordination
Call Management
Private Call – to call and talk privately with a specified user.
Priority Call – appoint priority enabled individual.
Group Call – communicate one-to-many
Call Management
Priority Call – Allows authorized user to interrupt conversations during an emergency or to deliver critical communication
Emergency Button – Send out a distress call to console.
Device Enabled/disabled – device can be disabled remotely if stolen or abused.
Enhanced encryption – higher security level.