MyMB Smart Home Wireless Curtain IR Sensor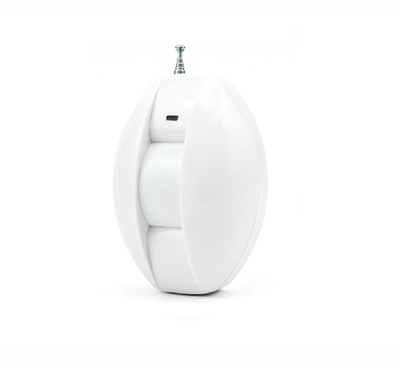 Model:
MyMB-CIRS
Price:
RM 75
[ This Items must use together with MyMB Smart Home HD IP Camera (1080P) or MyMB Smart Home Wireless Auto Security Alarm Siren]
Introduction:
MyMB Smart Home Wireless Curtain IR Sensor detect motion within an area which is covered by Infrared, the emitted infrared is curtain shape as shown in picture below.

MyMB Smart Home Wireless Curtain IR Sensor could be use near the window and door, it use advance signal processing method to reduce false alarm. When there is motion detected within the infrared coverage area, it will emit alarm signal to receiver (i.e. MyMB Smart Home HD IP Camera (1080P) ) and  the receiver will react accordingly.
Features:
Intelligent signal processing technology
Real temperature compensation technology
Battery low indicator
Adjustable Alarm delay time
Resist to RF interference (20V/m – 1GHz)
Wireless Transmission
Built in micro processor
Ultra low power design
use SMT technology, resist to RFI/ EMI interference
Specification:
Operating Voltage :DC3V  2"AA"battery
Standby Current:≤15uA
Alarm Current:≤10mA
Battery Life:1 Year
IR Length:9 meter
IR angle:15°
self check time:60S
Alarm indicator:Red LED
Low Battery indicator:Yellow LED
Operating Temperature:-10 ℃ ~ +50℃
Humidity:< 95%RH
Installation Height:1.7-2.5 Meter
Operating Frequency:315M or 433M
Transmission:100 Meter if unblock
Size:110*69.5*40mm
Notes:
Avoid installation at outdoor, area with pet, air cond, heat source, direct sun light or under rotating object.
Install at object that do not move or vibrate.
Install at area that intruder most likely to pass through.