Wifi Smart Switch Power Socket (220V 2200W)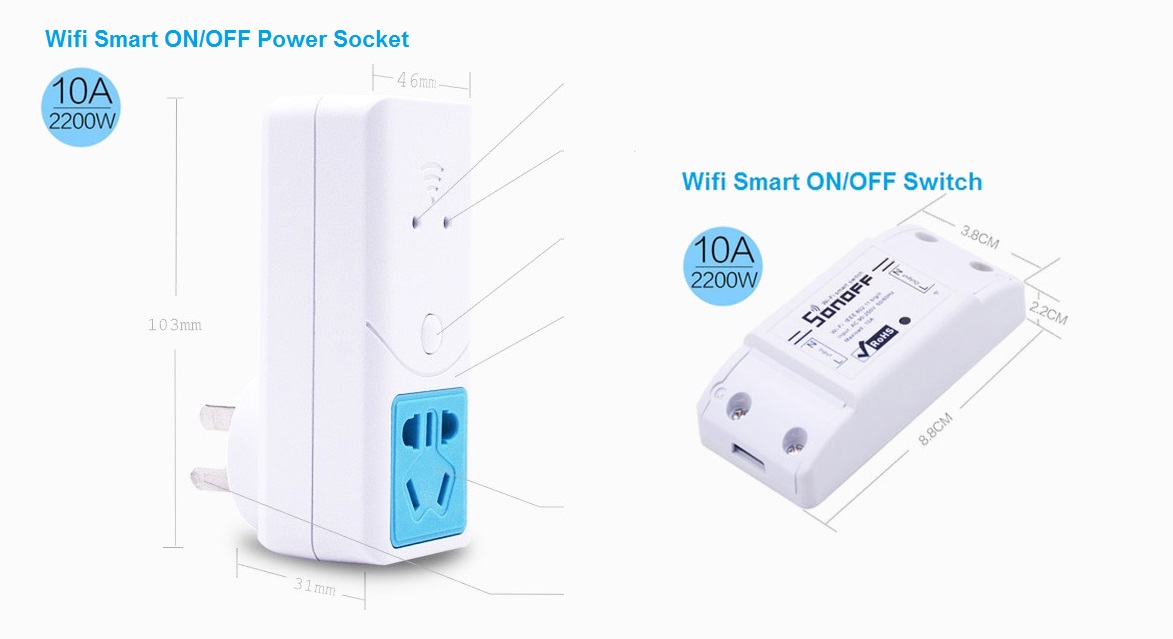 Wifi Smart Power Socket:
Wifi Smart Switch :
Introduction:
Wifi Smart Switch Power Socket is a 220V power socket / switch which can be remote controlled by smartphone or pc App over internet. You can control on / off of electrical appliance such as LED lighting, TV, Electric kettle, Radio, lighting, fan and etc when you are not at home.
Features:
Remote control electrical appliance in your home at any place over smarphome or PC App.
Plug and play, easy to install. Just install the app on smarphone and start to use it.
The smartphone app can control multi devices at the same time.
Can set on/off timing of the smart wifi switch power socket in the app.
The wifi smart switch power socket will feedback the on/off state in the app.
Application Examples:
If you are on a long holiday and not at home, you can control the lighting so that thief may think someone at home;
You can turn off the TV at home during work so that your children at home do not spend too much time on watching TV.
You don't need to wait 10 minutes at home just to wait the kettle boil the water (Even if it is an automatic kettle, as sometime we worry the kettle automatic cut off is not working), just leave your house and turn the wifi smart switch Power Socket off after 10 minutes over App.
Switch on the slow cooker or rice cooker over App just before you leave your office and you can have your dinner soon after you reach home.
Socket Type:
Using high-quality material, high heat resistance, shock resistance and flame resistance





Specifications :
Size: 103Lx46Wx43H(mm) [Wifi Smart Power Socket] / 88Lx38Wx22H9mm) [Wifi Smart Switch]




Input Voltage: AC90 ~ 250V 50/60Hz




Maximum Current: 10A




Maximum Power: 2200W




Wi-Fi Standard: 802.11b/g/n




Shell Material: Flame-retardant ABS Plastic




Type: Remote Controls


Operating Temperature: 0~55 degree Celcius



Package Content:
1 x Wifi Smart Switch / or Power Socket
1 x User Manual